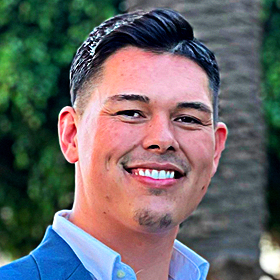 Hernán Sanchez
Coordinator of National Programs
Hernán Sanchez is the Coordinator of National Programs for the Center for Civic Education, Hernán will engage with the Center's dynamic staff and networks to coordinate and manage civic education programs. He will coordinate and administer programs that involve civic education leaders, educators, and learners across the country, including but not limited to We the People and Project Citizen. Hernán will also engage with a variety of stakeholders with diverse perspectives and experiences, developing and facilitating programming and fostering new ideas and initiatives to accomplish the Center's vision.
Prior to joining the Center, Hernán served as the Family and Community Engagement Coordinator for the San Bernardino County Region in Southern California supporting healthy youth development and improved academic achievement through increased family and community engagement within the schools. Hernán incorporates twelve years of educational management experience, partnering with schools districts and non-profit sectors. Hernán has also served as a middle school co-teacher working directly with English Language Learners, and Newcomers for the Menifee Union School District. He is a humanitarian at heart, and has a deep passion for changing the odds for students, families and communities.
Hernán is an empathetic leader and skilled philanthropist who loves networking, and cultivating authentic long lasting partnerships with businesses, organizations, legislators, and community members. He was also recently recognized by the National Afterschool Association as a next generation leader.
Email: sanchez@civiced.org