"Every generation leaves behind a legacy. What that legacy will be is determined by the people of that generation. What legacy do you want to leave behind?"
- Congressman John Lewis, Across That Bridge: A Vision for Change and the Future of America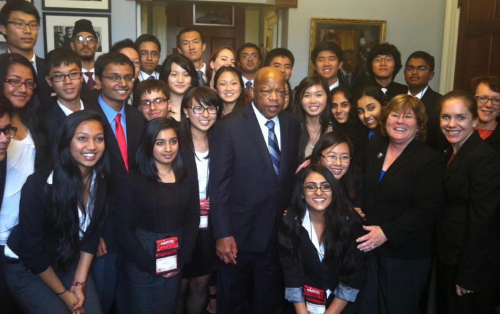 It is with great sadness that the nation's Center for Civic Education recognizes the passing of the indomitable icon, U.S. Congressman John Lewis (D-Georgia). He is known across the country and around the world as a civil rights pioneer, the "conscience of Congress," and a man forever on the right side of history. To the Center, he is known as a path-breaking defender of civic education and civic engagement.
We celebrate the remarkable legacy of this man who led hundreds of peaceful protesters across the Edmund Pettus Bridge in Selma, Alabama in 1965 on behalf of voting rights, and continued to work for justice in America for many decades after.
It is an especially somber day of reflection for the Center and our community, since just yesterday Congressman Lewis and Congressman Kevin McCarthy teamed up to lead over 150 other members of Congress in a bipartisan effort and letter of support on behalf of our work with the U.S. Department of Education.
Congressman Lewis will always be an American hero and a guiding light for the principles and virtues of robust, well-resourced civic education. To a virtuous public servant, we salute your patriotism and the courage of your eternal convictions.
Sending Very Deepest Condolences,

Christopher R. Riano
President
Center for Civic Education