| | | |
| --- | --- | --- |
| American History & Civics Academies | | |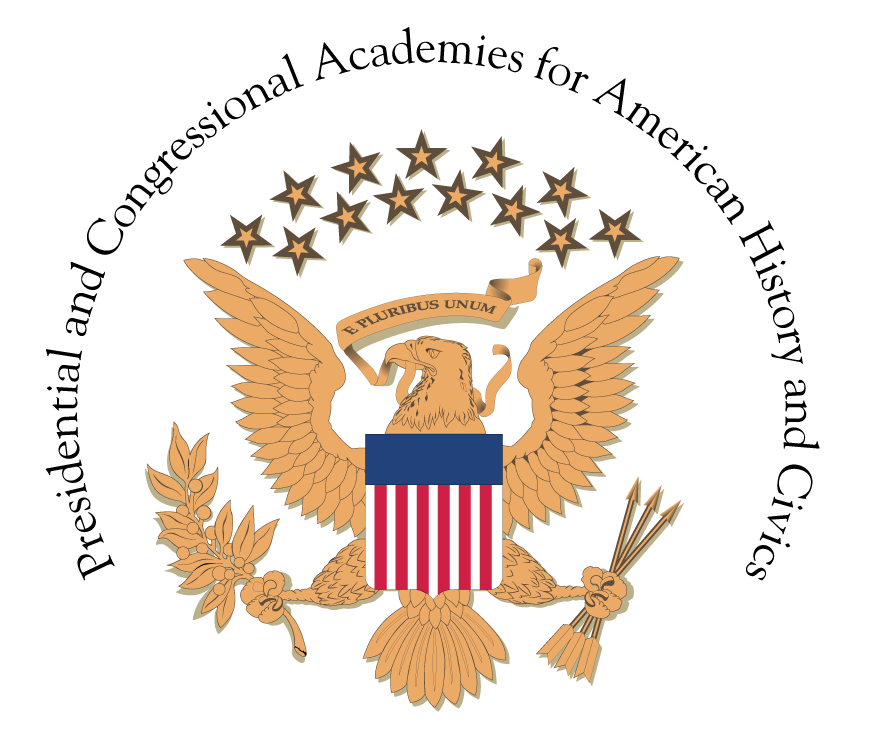 2019 Summer Institute a Success!

The Center for Civic Education began the 2019 Presidential Academy for teachers and Congressional Academy for high-need students with a highly successful two-week summer institute at Goucher College in Baltimore, Maryland on July 7-20, 2019. Institute evaluation results from the Civic Education Research Lab (CERL) at Georgetown University demonstrate that students' knowledge of history and civics improved, especially for Title I school students. Participation in the summer institute significantly enhanced students' civic dispositions related to political interest and attention, political discussion, community engagement, government service, civic duty, and trust in government. Students' confidence in their civic skills also increased. CERL is currently conducting analysis of the institute's impact on teachers with more findings to come!

Throughout the summer institute, leading scholars and mentor teachers led participants in the study of constitutional history and principles of the We the People: The Citizen and the Constitution curriculum. Scholars for the Presidential Academy included the Honorable Susan Leeson, Supreme Court of Oregon (ret.); Dr. J. Barlow, Professor of Politics, Juniata College; Dr. Francene Engel; and Dr. Vikram Amar, Dean & Iwan Foundation Professor of Law, University of Illinois, College of Law. Congressional Academy scholars included GlyptusAnn Grider-Jones, PR & Research Coordinator, McConnell Center; Dr. Joseph Stewart, Professor of Political Science, Clemson University; Professor C. Riano, Columbia University; and Dr. David Hudson, Professor of Law, Belmont University.

Participants enhanced their learning with field trips to National Park Service and other relevant sites including Gettysburg, Fort McHenry, the U.S. Capitol, the Supreme Court, Smithsonian museums, and Mount Vernon.



Engagement among teachers and students will continue during the academic year following the initial two-week institute. The Center hosts online discussion forums for teachers and for students to continue peer conversation as they engage in history and civics activities at their schools. Four webinars will be offered during the year that will extend the teachers' professional development and benefit students and the general public.

This academy is a grand slam from the students' perspective and the teachers' perspective! The dynamic taking place between the teachers and between the students and all the combinations thereof has made for and continues to make for the most powerful, engaging and valuable seminar that I have been to in my thirty-year career.—Presidential Academy participant




Program Information
The Academies provide high-quality educational engagement in American history and civics. The Presidential Academy is for secondary school teachers, and the Congressional Academy is for high-need high school students. The Academies are funded by a grant from the U.S. Department of Education. Pending continued funding from the Department, another four years of Academies are planned through 2023.

The Academies include 51 teachers and 102 students from throughout the country. Although the summer institute takes place on the same campus, each Academy has a distinct agenda and meeting spaces. Preference is given to teams of one teacher and two or more students applying from the same school or district so that they can share about their learning experiences during the summer and jointly conduct civic engagement activities during the academic year. Transportation, room, and board costs are paid by the grant.


Presidential Academy teachers receive high-quality professional development in the content and methods of history and civics. Built into the institute

a

genda

are four field trips to relevant National Park Service sites. During the school year teachers are also engaged in outreach and follow-up activities with scholars that will benefit their school communities. Aided by the online History and Civics Forum, the Center will build a professional learning community that will expand with each year of the project. Teachers are expected to participate in the online forum and four online webinars. They are encouraged to engage with other teachers and students at their school to organize history and civics activities. Teacher participants receive a modest stipend for their work.


Congressional Academy students receive high-quality, interactive instruction in history and civics that parallels the professional development for the teachers. These student-scholars join the teachers on trips to National Park Service sites. They have the opportunity to collaborate with their peers and build their research and presentation skills through participation in a simulated congressional hearing. They are also engaged in follow-up activities during the school year, aided by the online Student History and Civics Forum. Students are encouraged to work with other students and teachers at their school to organize or participate in a history or civics activity. Students also receive a modest stipend.



Selection Priorities



In order to meet grant priorities, preference is given to teachers who work with high-need students and student applicants who are high-need. Teachers are selected from secondary schools that offer strong administrative support for work with high-need students. We ask that, for each teacher, two or more students from that teacher's school or school district apply and participate in the summer institutes. The teachers and students are expected to participate in joint learning and civic engagement activities during the school year.

Contact



For additional information about the American History & Civics Academies, please contact John Hale at

hale@civiced.org.