| | | |
| --- | --- | --- |
| Women in Constitutional History | | |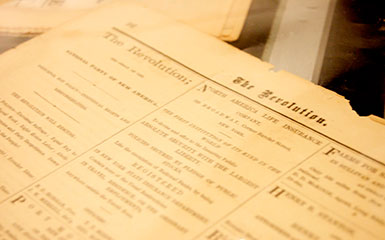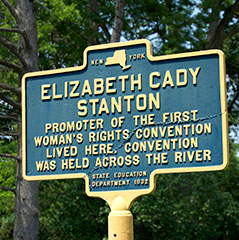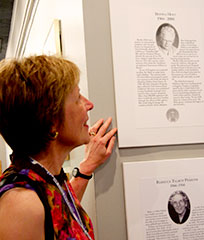 Overview
The Elizabeth Cady Stanton House, M'Clintock House, and Wesleyan Chapel at the Women's Rights National Historical Park and the Women's Hall of Fame serve as backdrops for discussions about the first women's rights convention, Woodrow Wilson and women's suffrage, and the passage of the Nineteenth Amendment. There are also discussions about gender in civic education and assessing the progress of women in America and abroad.

Partner Organizations







Agenda

2011 Agenda


Presenters
Dr. Margaret Stimmann Branson, associate director of the Center for Civic Education
Dr. Nancy Rosenbloom, history professor, Canisius College
Dr. Judith Wellman, historian and principal investigator, Historical New York Research Associates
Dr. Christine Woyshner, associate professor of education, Temple University
Teacher Resources
Biographies
National Women's History Museum
View biographies of influential women searching the biography index by name or by category.

Biographies of Influential Suffragists
National Women's Hall of Fame
View biographies of women who contributed in many different ways and nominated to the National Women's Hall of Fame.
Timelines
One Hundred Years Toward Suffrage: An Overview Timeline
Order of Ratification of the 19th
U.S. Suffrage Movement Timeline, 1792 to present
Multimedia
Political Cartoons
National Archives
Cartoon Analysis Worksheet
Stanton, George Washington, and Anthony
Votes for Women Suffrage Pictures, 1850–1920
Clipart ETC
An online service of Florida's Educational Technology Clearinghouse provides clipart images of political cartoons critizing the politics of women's rights.
Videos
American Experience: One Woman, One Vote. 1995
Not for Ourselves Alone: The Story of Elizabeth Cady Stanton and Susan B. Anthony
Iron Jawed Angels, HBO
In the News
Suffrages Lose Fight in the House
Colby Proclaims Woman Suffrage
Suffrage Wins in Senate; Now Goes to States
New York Times, June 5, 1919
Back in TIME
Time Magazine
Read articles from the TIME archive about the milestones and women who fought for the right to vote, Equal Rights Amendment, and for new roles in politics.
Important Court Cases (opens a new page of important cases and decisions to women's rights)

Congressional Actions (opens a new page of important congressional activity to women's rights)

Additional Teacher Resources
Declaration of Sentiments

Papers of Elizabeth Cady Stanton and Susan B. Anthony

Nannie Helen Burroughs—A Register of her Papers in the Library of Congress

Women in Congress

"Using the New York Times for Teaching and Learning About Women"
by Sarah Kavanagh and Holly Epstein Ojalvo, New York Times blog

Teaching the Trial of Susan B. Anthony—Curriculum resources

Women Working, 1800–1930
(Harvard University Library Open Collections Program)
This site is a digital exploration of women's impact on the economic life of the U.S. between 1800 and the Great Depression. View books and pamphlets, diaries and memoirs, magazines, trade catalogs, archives and manuscript items, photographs, and biographies of notable people. Teacher resource section available.
Susan B. Anthony Speech: Is it a Crime for a Citizen of the U.S. to Vote?

Votes for Women: Selections from the National American Woman Suffrage Association Collection, 1848–1921
(from the Library of Congress)
This collection consists of texts and documents from the meetings of women's organizations, books, memorials, pamphlets, and scrapbooks from the beginning of the women's rights movement through the passing of the 19th amendment.
Women's History
(from the Library of Congress)
View print materials, photographs, webcasts, and other online materials presenting women's contributions to history. See lesson plans, primary source sets, online activities and background information for students, and multimedia resources to support instruction.
Teaching with Documents: Woman Suffrage and the 19th Amendment
(from the National Archives)
This site provides historical documents and a script that the National Archives commissioned about woman suffrage and the Nineteenth Amendment.
American Women—A Gateway to Library of Congress Resources for the Study of Women's History and Culture in the U.S.
Women and Social Movements in the United States, 1600–2000
National Archives reference of women's history
Women's Rights National Historical Park

Women's Rights and Human Rights
A lecture from the seminar by Dr. Margaret Branson
Lessons & Activities
Great Women of Our Pasts, Grades K–4
(Smithsonian National Museum of American History)

Winning the Vote for Women, Grades K–4
(Smithsonian National Museum of American History)

Women's History Lesson Plans
(from the National Endowment for the Humanities)
Select women as the subtopic from the drop-down menu and specify grade level, theme, and time period in U.S. History for available lesson plans.