| | | |
| --- | --- | --- |
| Writs of Assistance | | |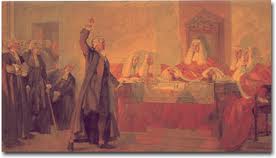 The "Writs of Assistance" were general warrants allowing officials to search
for smuggled material within any suspected premises. James Otis was
Advocate-General when the legality of these warrents was attacked, but
promptly resigned his office when called upon to defend that legality. The
Boston merchants then retained him as their counsel to oppose the writs
before the Superior Court of Massachusetts. Otis refused the fee they
offered, saying that in such a cause he despised all fees. In a five-hour speech,
which was witnessed by a young John Adams, Otis argued that the writs were
unconstitutional. He based his case on the rights guaranteed in English common law.



James Otis,

in his argument before the Superior Court of Massachusetts in 1761 said

,
"It appears to me the worst instrument of arbitrary power, the most destructive of English liberty and the fundamental principles of law,
that ever was found in an English law-book. I must therefore beg your Honors' patience and attention to the whole range of an argument
that may perhaps appear uncommon in many things,as well as to points of learning that are more remote and unusual, that the whole
tendency of my design may the more easily be perceived, the conclusions better descend, and the force of them be better felt. I shall not
think much of my pains in this cause, as I engaged in it from principle."

"Now, one of the most essential branches of English liberty is the freedom of one's house. A man's house is his castle; and whilst he is quiet,
he is as well guarded as a prince in his castle. This writ, if it should be declared legal, would totally annihilate this privilege. Custom-house
officers may enter our houses when they please; we are commanded to permit their entry. Their menial servants may enter, may break locks,
bars, and everything in their way; and whether they break through malice or revenge, no man, no court can inquire. Bare suspicion without
oath is sufficient."

Full Text



Judge Andrew Napolitano explains
the
Stamp Act and the Writs of Assistance