| | | |
| --- | --- | --- |
| Nosotros El Pueblo: Proyecto Ciudadano | | |
Project Citizen is a civic education program for middle, secondary, and post-secondary students and youth or adult groups. Project Citizen promotes competent and responsible participation in state, local, and federal government. It actively engages people in learning how to monitorand influence public policy. Participants work together as a class or extracurricular group to identify and study a public policy issue. The final product is a portfolio that may be presented before other classes, groups, community organizations, or policymakers.

Nosotros El Pueblo: Proyecto Ciudadano is the Spanish-language edition of the Project Citizen Level 1 text for middle-grade students (grades 5–8). Each set includes 30 Spanish-language student books and a teacher's guide in English.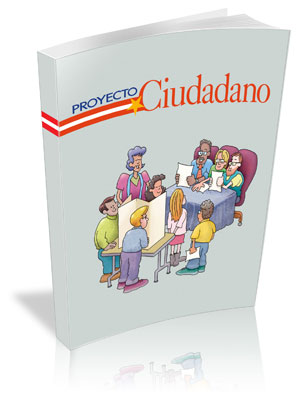 Note: This text is currently out of stock.

Classroom set: $255.00 each (ISBN: 0-89818-235-S)
Student text: $14.00 each; 10 or more: $13.00 each (ISBN: 0-89818-235-4)
Teacher's guide: $16.00 each (ISBN: 0-89818-236-1)
Common Core State Standards
Project Citizen is aligned with the Common Core State Standards for Literacy in History/Social Studies. These draft correlations were performed by the Maryland State Department of Education. Download the correlation in pdf format by clicking on the button below.








Project Citizen is administered nationally by the Center for Civic Education in cooperation with the National Conference of State Legislatures.