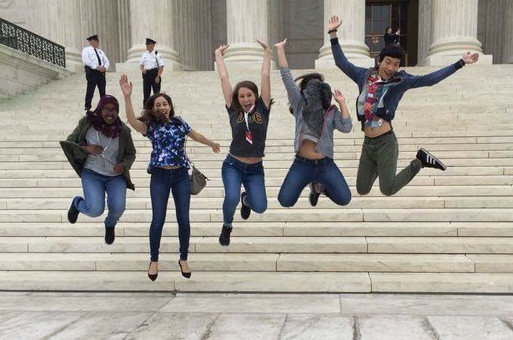 On behalf of the Center for Civic Education, congratulations to each and everyone of you for
your scholarship, determination, and teamwork. We hope your experience in Washington, D.C.
is one remembered throughout your entire life.




Robert S. Leming, Director
We the People Programs
Center for Civic Education


---

Upcoming State Competitions
For more information, please contact the state coordinator.


| | | |
| --- | --- | --- |
| State | Date | Location |
| Alabama | January 26, 2018 | Alabama State Capitol House |
| Alaska | December 6, 2017 | Fairbanks North Star Borough School District |
| Arizona | January 12, 2018 | Mesa Community College |
| Arkansas | December 13, 2017 | Brewer-Heggeman Conference Center |
| California | February 2 - 3, 2018 | Golden Valley High School |
| Colorado | December 11, 2017 | University of Denver |
| Connecticut | December 18, 2017 | Central Connecticut State University |
| District Of Columbia | February 13, 2018 | Hill Center at the Old Naval Hospital |
| Florida | February 2, 2018 | Barry University School of Law |
| Hawaii | February 3, 2018 | First Circuit Court, Kaʻahumanu Hale |
| Idaho | January 30, 2018 | Marriott Springhill Inn and Suites |
| Illinois | December 8, 2017 | Dirksen Federal Building |
| Indiana | December 10 - 11, 2017 | Union Station Crowne Plaza - Indianapolis |
| Iowa | January 19, 2018 | University of Northern Iowa |
| Kansas | February 7, 2018 | Kansas State University |
| Kentucky | January 18, 2018 | McConnell Center - Ekstrom Library, University of Louisville |
| Maryland | January 5, 2018 | TBD |
| Massachusetts | January 27, 2018 | Edward M. Kennedy Institute for the US Senate |
| Michigan | January 12, 2018 | State Capitol Complex |
| Minnesota | December 12, 2017 | Minnesota State Capitol |
| Missouri | December 4, 2017 | Marriott Courtyard |
| Montana | January 23, 2018 | Radisson Hotel |
| Nebraska | December 19, 2017 | UNL College of Law |
| Nevada | February 3, 2018 | University Nevada Reno (UNR) |
| New Hampshire | January 5, 2018 | Legislative Office Building |
| New Jersey | January 24, 2018 | Rutgers University |
| New Mexico | December 9, 2017 | New Mexico State Capitol |
| New York | February 3, 2018 | Albany Marriott |
| North Carolina | March 3, 2018 | High Point University |
| North Dakota | January 17, 2018 | TBD |
| Ohio | February 2, 2018 | Ohio Statehouse |
| Oregon | January 13, 2018 | Hatfield Federal Courthouse |
| Rhode Island | February 10, 2018 | West Warwick High School |
| South Carolina | January 5, 2018 | Columbia College |
| South Dakota | January 26, 2018 | TBD |
| Tennessee | January 13, 2018 | TBD |
| Utah | February 1, 2018 | University Of Utah |
| Virginia | January 26, 2018 | University of Virginia, Darden School of Business |
| Washington | January 6, 2018 | Washington State Capitol |
| West Virginia | December 13, 2017 | Robert C Byrd Federal Courthouse |
| Wisconsin | January 6, 2018 | American Family National Headquarters |
| Wyoming | January 22, 2018 | Hilton Garden Inn |