Dec 21, 2015 / Civitas International Programs
Tags: Civitas International Programs, Moroccan Center for Civic Education, Morocco

Students in the English Access Microscholarship Program in Morocco presented public policy proposals at a Project Citizen showcase and graduation ceremony in Casablanca on November 21-23, 2015. The Moroccan Center for Civic Education, the Center for Civic Education's Civitas International Programs partner in Morocco, organized the event.  The showcase culminated two years of collaboration among the students in learning the English language and developing public policy proposals to address issues in their communities.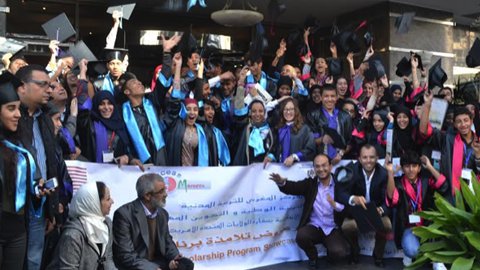 Project Citizen is a curricular program created by the Center and adapted for use with young people in seventy-five countries.  By participating in Project Citizen, students learn to interact with their government and community leaders through a five-step process that entails (1) identifying a public policy problem in their community, (2) gathering and evaluating information about the problem, (3) examining and evaluating alternative solutions, (4) selecting and developing a public policy proposal to address the problem, and (5) developing an action plan to bring their proposed solution to authorities with the power to implement it. Project Citizen has been recognized as a model program that equips young people with the knowledge, skills, and dispositions required for competent and responsible participation in the political life of their communities.
The Access program provides two years of supplemental English-language classes to young people, ages 13 to 20, who cannot otherwise afford them. The program is active in more than 90 countries worldwide and is sponsored by the U.S. Department of State. In Morocco, it has been supported by the Regional English Language Office of the U.S. Embassy in Rabat since 2003.
As an implementer of the Access program, MCCE supports active learning in English-language education and incorporates global citizenship education and other knowledge and skills that increase future employability. Experienced teachers facilitate Access students to work together in teams to learn English and solve problems in their community. Through this process, the students are able to use the English language and become knowledgeable and effective advocates capable of informing other students, peers, and the community about their policy proposals. Instruction includes an emphasis on universal democratic values, civic engagement, history, and culture in an accurate and responsible manner.
MCCE is a Moroccan nongovernmental organization that educates young people for responsible civic participation. Since 2004, MCCE has collaborated with the Center and other international partners to implement effective educational programs, including Project Citizen and Foundations of Democracy. Today, MCCE is a national and regional leader in education for democratic citizenship.